This is the season to enjoy spending time with friends and family, not time at the Urgent Care.  Although we always love seeing our patients, we thought you might appreciate some suggestions that might help you avoid a trip to Next Level Urgent Care over the holidays.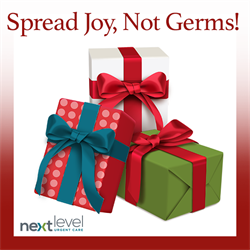 Next Level Holiday Tips:
• Steer clear of double dippers (especially those with runny noses)
• Wash your hands often (and don't be afraid to tease those who don't)
• If you must cough or sneeze, aim for a safe haven into your elbow
• If you have food allergies, ask the ingredients before you eat!
• If you can't handle the heat, stay out of the kitchen (potholders are your friend)
• Proving you are the fastest, strongest, and most athletic can sometimes go terribly wrong… be careful when playing "friendly games"
Conditions we treat at Next Level Urgent Care:
• Cold and Flu
• Sore Throat
• Sinus Infections
• Sport Injuries
• Sprains or Strains
• Fractures or Broken Bones • Minor Burns
• Rashes
• Vomiting, Diarrhea, or Nausea
• Bad Hangovers
Next Level Urgent Care is open 363 days a year. We are closed for our staff to celebrate with their families on Thanksgiving Day and Christmas Day, otherwise you can visit us 7 days a week until 9pm for any unfortunate illness or accident that might occur.   If you need to find the location nearest you, visit: locations.
If you do end up needing to see us this holiday season, remember to download our app or use our call ahead care line so that you can wait at home and receive a text or call when an exam room is ready for you.
Here at Next Level, we wish you a Happy and Healthy Holiday Season!