Why Choose Next Level instead of the ER?
"Next Level Urgent Care is committed to providing high quality, affordable health care for all."
It can be frightening when a sudden illness or injury strikes, especially if your primary care doctor is not available.  Next Level Urgent Care treats patients of all ages.  When you need to make a choice quickly about where to get the medical attention, it's important to have all the facts before you seek care.
NEXT LEVEL URGENT CARE
Short Wait Times
Comfortable & Friendly Environment
Most Insurance Plans Accepted
Quality Medical Care
Convenient Locations
Open 7 Days A Week
Walk-Ins Welcome
EMERGENCY ROOMS
Long Wait Times
Crowded and Busy Waiting Areas
Overworked Medical Staffs
High Bills With Hidden Charges
Unnecessary Tests
Average Cost Per Visit
Next Level Urgent Care provides a cash payment discount option for those with either a high deductible or no insurance. This option typically results in a much lower out of pocket cost for you compared to what your insurance company would normally make you pay. 
The Next Level In Healthcare
​CEO and Medical Director
Juliet Breeze, MD graduated from Northwestern University in 1991 with a Bachelor of Arts degree with honors in English. In 1995, she earned her medical degree from Baylor College of Medicine. She completed residency training in Family Practice at Memorial Hermann Southwest in 1998 where she received the Norma Culver Outstanding Family Practice Resident award.  READ MORE
What sets us apart?
At Next Level Urgent Care, everything is designed around your comfort and convenience. We treat conditions that need immediate attention but are not life threatening, with on-site X-ray and skilled providers we can treat anything from cuts requiring stitches to broken bones. Your co-pay will always be much less than at an emergency room. For those who do not have insurance, we offer discount pricing.
Download the Next Level Mobile App to Get In Line Online!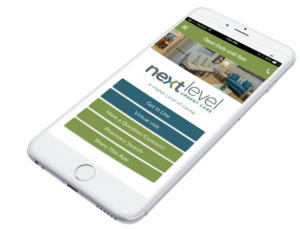 Text NLUCAPP to 313-131