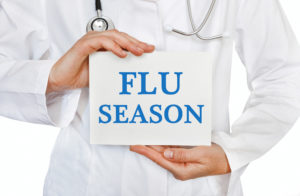 The 2019-2020 flu season got an early start this year, earlier than it has started in 16 years as a matter of fact.  While we hoped the early start would mean an early end to the season, the truth of the matter is that this season is still going strong and is expected to last for another few months. 
Not only that, but generally when flu hits, there's a very clearly dominant flu type.  At the start of the 2019-2020 season, that was B-strain flu.  However,  we are now half way through the season and experiencing a sharp increase in A strains.  When 2 flu strains overlap, we have what is called a 'double-barreled' flu season, which is rare. 
What's most problematic about the 'double-barreled' flu season is that those that already had B-strain flu don't develop immunity to A-strain flu, which means those individuals could potentially get sick twice in one season. 
To avoid getting either flu strain, continue washing your hands often and avoid large crowds where illnesses can spread easily.  Also, since we still have a few more months of A- strain flu, it's not too late to get your flu shot!
Stay healthy, Next Level Fam!