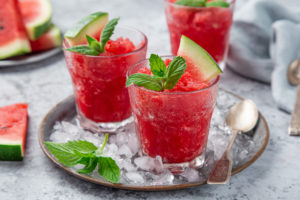 Watermelon Granita
Ingredients for 3 cups:
6 cups of cubed fresh watermelon
1 tablespoon of lime juice
Notes: Fresh fruits are back and sweeter than ever.  Feel free to sub your favorite fruit into the recipe above.  You can also switch lime juice for lemon juice and add in fresh herbs for a twist.  
Instructions:  Blend your fresh fruit and lime (or lemon) juice in a blender until smooth.  Pour into a freezable dish and freeze for 3-4 hours, or until the mixture is frozen, but scoopable. 
Leftovers can be frozen and thawed at room temperature for about 10 minutes before scooping.
Enjoy!