Smoothies have so much to offer when it comes to your health.  
1. They promote nutrient absorption from green vegetables such as kale, spinach, collard greens and lettuce through the blending process.  
2. Enhanced nutrient absorption=increased energy! 
3. The whole fruits and vegetables that go into smoothies are a great source of fiber, which results in better digestion. 
4. Smoothies loaded with green vegetables (phytonutrients) keep your immune system strong, which we all need, especially in the height of flu season! 
5. Dark leafy greens in smoothies are rich in calcium and vitamin K, which promotes healthy bones. 
6. Antioxidants in smoothies can lower cholesterol, decreasing your risk of heart attack and stroke. 
7. Antioxidants also reduce signs of aging and hydrate your skin! 
8. Consuming whole, unprocessed, and nourishing foods can help you kick cravings. Depending on what you put in your smoothie, smoothies naturally sweetened with fruits can also sub in for a healthy treat when you are craving something sweet.
9. Smoothies help you get all of your greens in!  People who struggle with getting enough greens during the day may benefit from adding greens to a smoothie.
10. Since humans are intrinsically habitual creatures, engaging in one healthy activity such as drinking a green smoothie, actually results in your mind craving additional healthy activities such as that new exercise class you've been considering.  
On to the good stuff… the recipes!!!  Heidi Farmer is a huge fan of green smoothies for health.  She has shared three different recipes with us to help get you started.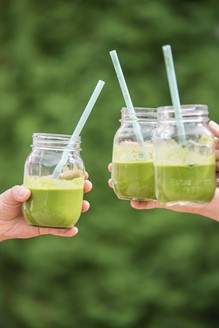 For the beginner: Basic Green Smoothie
https://farmgirlhealth.org/apps/recipe/details/id/Basic-Green-Smoothie-9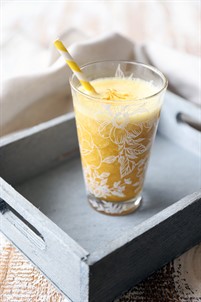 For those craving something fun" The Piña Kale-ada Smoothie
https://farmgirlhealth.org/apps/recipe/details/id/Pi-a-Kale-ada-Smoothie
For those who just LOVE the taste of vegetables: The V8 Veggie Smoothie
https://farmgirlhealth.org/apps/recipe/details/id/Fresh-V8-Cocktail
For more exciting and healthy recipes, check out Heidi's Recipe Page here: https://farmgirlhealth.org/apps/recipe/