Feeling sick?   Here are some recipes to get you back to 100%.
Cold Buster Tea: This tea is perfect to sip on when you have a cold due to it's main ingredients, honey, ginger, and lemon, all of which possess medicinal qualities to help relieve cold and flu symptoms.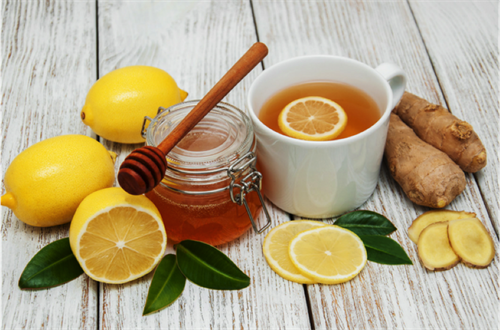 Ingredients:
1 inch piece of ginger, peeled and sliced
1/3 c honey
1 c boiling water
1/3 c of freshly squeezed lemon juice
Additional water
Ice*
*optional
Directions: Mix together ginger, honey, lemon juice, and boiling water. Once honey is dissolved, allow the mixture to steep for 15 minutes.
For hot tea, pour the mixture into a 2 qt pitcher and fill the pitcher ¾ of the way with additional hot water.
For cold tea, fill a 2 qt pitcher with ice.  Pour the ginger, honey, lemon mixture over the ice and fill the pitcher all the way with cold water.
Enjoy!
Immune Boosting Juice: Brighten your day with this juice packed with nutrients and rich in vitamin C!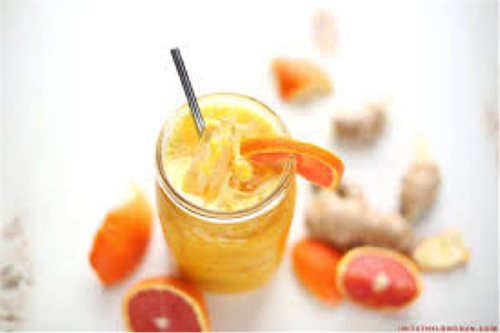 Ingredients:
Juice from 2 large oranges
1 tbsp chopped fresh ginger
1 tsp turmeric
1 c water
Honey*
*Optional
Directions: Blend all ingredients together until smooth and serve over ice.
Throat Soothing Popsicles: This is an easy recipe to sooth a scratchy throat.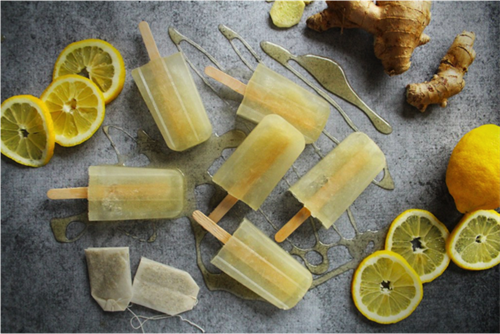 Ingredients:
Juice of 1 large lemon
2 in piece of thinly sliced ginger
2 tbsp honey
2 teabags of your favorite light herbal tea
2 ½ c boiling water
Directions: Mix together the lemon juice, ginger, honey, and tea bags. Pour boiling water over the mixture and let steep for 10 minutes.
Remove the tea bags and strain out the ginger.  Allow the mixture to cool.
Pour into popsicle molds and freeze completely before serving.
DIY Pineapple Cough Syrup: A simple concoction to ease a sore throat and cough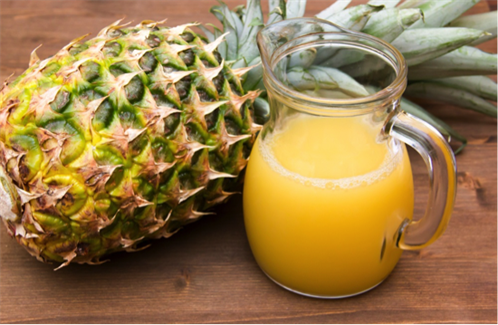 Ingredients:
¼ c honey
¼ c pineapple juice
Pinch of cayenne*
*optional
Directions: Take 2 tbsp every 4 hours to reduce cough.
Thieves Oil: This oil has so many great uses.  You can add a drop to tea if you are starting to feel sick, rub it on your feet for an immunity boost, add to warm salt water and gargle for 60 seconds to sooth a sore throat, rub a drop over the roof of your mouth to ease headaches, add to a diffuser for germ protection, or add to your favorite cleaners for added antibacterial protection.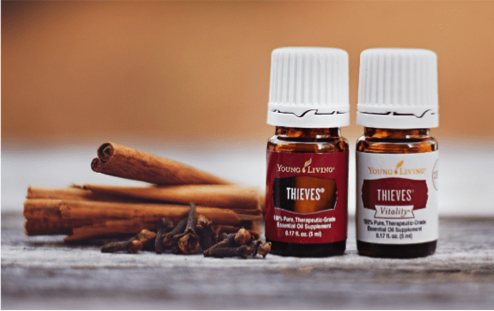 Ingredients:
1 tbsp clove oil
3 tsp lemon oil
2 tsp cinnamon oil
1 tsp eucalyptus oil
½ tsp rosemary oil
Directions: Mix all ingredients together and store in a cool, dark place.
Superfood Hot Chocolate: Immune boosting and antioxidant packed ingredients make this delicious chocolately drink even better!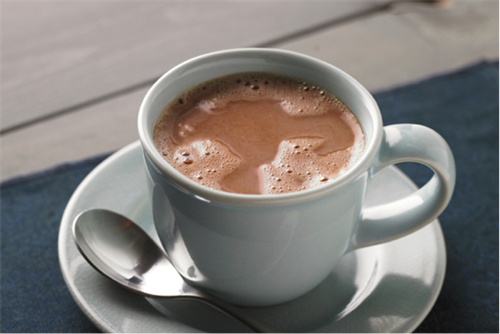 Ingredients:
2 c non-dairy milk of choice (our favorite is creamy cashew milk)
2 tbsp raw cacao
¼ tsp ground turmeric
½ tsp cinnamon
1 tbsp honey
1 tbsp coconut oil
Directions: Bring milk to boil.  Lower to simmer and add the cacao powder.  Stir in the turmeric, cinnamon and honey until well combined.  Lastly, add in the coconut oil and whip in until all chunks are melted and the mixture thickens.  Serve immediately.