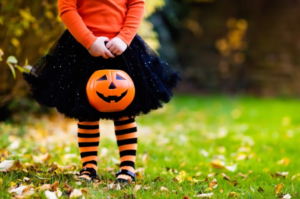 Trick-or-treating doesn't have to end in a sugar rush!  Check out our list of ways to ensure that your kiddos have a happy AND healthy Halloween!
Pre-game with a HEALTHY meal. You don't have to skip the spooky entrée – a quick Pinterest search for "healthy Halloween food" will give you lots of inspiration, such as spider web covered tomato basil soup, Halloween themed fruit parfaits, stuffed orange bell pepper jack-o-lanterns, and more!
Downsize your candy carriers. Although it's tempting to reach for the oversized pumpkin bucket, look for a smaller container for trick-or-treating and encourage your child to only take one piece of candy from each house.
Make trick-or-treating active! Walk with your kids from house to house instead of driving.  You can even turn it into a competition with friends and see who can get to the most houses.
Check all candy before allowing your child to consume it. Make sure that none of your child's candy is expired or contains ingredients that your child is allergic to.
Plan! Talk to your child about treats in moderation.  Let them know before and after trick-or-treating how much candy they'll be allowed to consume that night and days after ( a good rule of thumb is 1-2 pieces a day for 1-2 weeks, enough time for excitement to wane).  If your child's basket is overflowing with candy, consider donating some of it to a homeless shelter, children's hospital, or care package program for troops overseas.