Here are some of our favorite nutritious and fun after-school snack recipes:
Frozen Banana Bites
Ingredients:
1 c dark chocolate chips (dairy free are fine too)
2 tbsp coconut oil
course sea salt
3 ripe (but not soggy) bananas
Toothpicks
Directions: Cut the bananas in 1 inch bites and place on a parchment covered baking sheet. Place a toothpick in each banana bite. Freeze for at least 2 hours.
Melt the chocolate chips and coconut oil together either using a double boiler on the stove top or via microwave in a microwave safe bowl, stirring every 30 seconds.
Dip each frozen banana into the chocolate until covered and sprinkle with sea salt.  Place back on cold baking sheet until dried.
You can serve these immediately or refreeze.
Variation: Instead of seasalt, roll the chocolate covered bananas in chopped nuts such as pecans.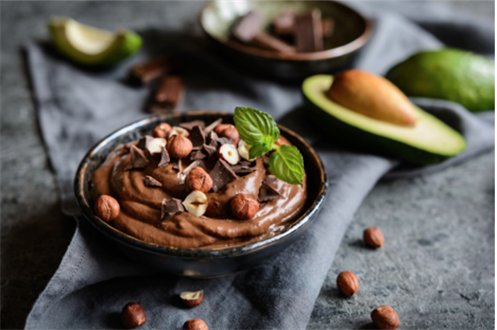 Chocolate Avocado Banana Pudding (Serves 2-4)
Ingredients:
2 avocados, ripe
2 medium bananas, ripe
6-8 tbsp unsweetened cocoa powder
1 tsp vanilla extract
Directions: Combine all ingredients into a food processor and blend until smooth. Refrigerate until ready to serve.
This pudding can be stored in a sealed container in the refrigerator for 2-3 days.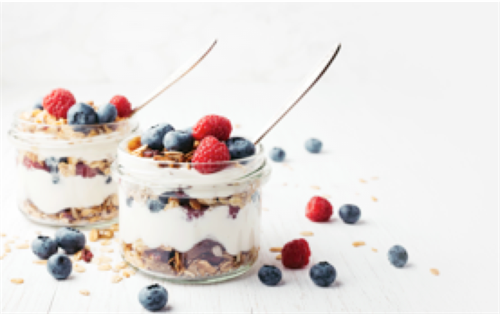 Granola, Yogurt, and Berry Parfaits (Serves 3)
Ingredients:
1 ¼ c old fashioned oats
¼ c slivered almonds
3 tbsp dried cherries
¼ c maple syrup or honey
1/8 tsp salt
1/8 tsp cinnamon
1 ¾ c mixed berries
1 ¼ c low fat vanilla Greek yogurt
Directions: Heat the oven to 300 F.  Coat a large rimmed baking sheet with nonstick cooking spray.  Combine the oats, almonds, cherries, maple syrup/honey, salt, and cinnamon and spread out on the baking sheet.  Bake the mixture for about 35 minutes or until golden brown, stirring halfway through.  Allow the granola to cool.
To arrange the parfaits, place ¼ c granola in the bottom of each serving glass. Then, top with ¼ c berries, and 3 tbsp yogurt.  Repeat layering once more.
Serve immediately.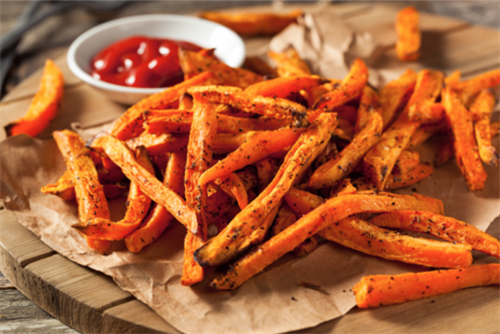 Homemade Sweet Potato Fries and Ketchup (Serves 4)
Ingredients:
1.5 lbs sweet potatoes, cut into ½ in strips
¾ tsp salt
¼ tsp black pepper
olive oil for drizzling
1/3 c ketchup (look for low sugar brands)
Directions: Heat the oven to 450 degrees F.  Cover a large rimmed baking sheet with nonstick aluminum foil.  Place the potatoes on the baking sheet in a single layer and coat with olive oil, salt and pepper.
Bake the potatoes for 30 minutes, flipping halfway through.
Frozen Yogurt Bites
Ingredients:
1.5 c plain Greek yogurt
¼ c berry jam, slightly heated so it's easy to stir
1 c fresh berries, larger berries chopped
Directions: Line a baking sheet with parchment paper.  Pour the yogurt onto the baking sheet and spread it into a single layer ½ inch thick.  Dollop teaspoon size amounts of jam all over the yogurt and use a knife to swirl it. Sprinkle fresh berries all over the yogurt and transfer the baking sheet to the freezer.  Freeze for several hours until firm.
Once chilled, break into irregular shaped pieces.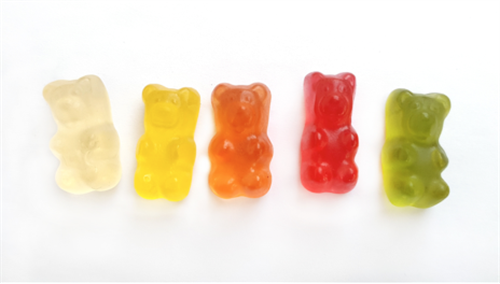 Homemade Fruit Snacks
Ingredients:
8 oz frozen mango chunks
1 c unsweetened pinapple juice
1 c pure orange juice
2 tbsp honey
2 tbsp lemon juice
1 tbsp lime juice
½ c unflavored beef gelatin powder
Directions: In a blender, combine the frozen mango chunks, pineapple juice, orange juice, honey, lemon juice and lime juice.  Blend until smooth.
Pour the blender contents into a 3 qt saucepan and whisk in the gelatin.  Set aside for 10 minutes to soften gelatin. The mixture should become applesauce consistency.
Place the saucepan on the stovetop over medium heat, whisking until the gelatin is dissolved and the mixture is no longer gritty.  Do not let the mixture boil.
Pour the saucepan contents into a 9×13 glass-baking dish.  Place into the refrigerator to set for 2-3 hours.
Cut the fruit snacks into bite size cubes.  These fruit snacks can be stored in the refrigerator for up to 10 days.
Happy snacking!