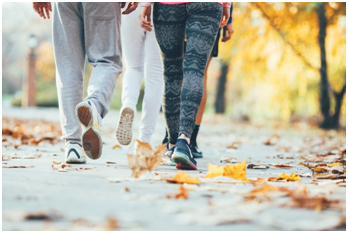 Walking is a majorly underrated form of exercise yet it has so many benefits. If you're not a huge fan of intense workouts, maybe a 30 minute walk a day is for you!
Walking is a weight-bearing exercise meaning you carry your own weight when you walk.  As with all other weight-bearing exercises, walking yields the following benefits:
Increased cardiovascular and pulmonary fitness
Reduced risk of heart disease and stroke
Improved management of conditions such as hypertension, high cholesterol, and diabetes
Increased bone strength and balance
Increased muscle strength and endurance
Reduced body fat
In order to get maximum benefits out of walking, aim to walk at least 30 minutes a day at a brisk pace.  If you can't get all 30 minutes done in one session, you can incorporate walking into your daily routine by opting to take the stairs instead of the elevator, parking just a bit further from your destination than normal, or getting off of public transport a stop earlier and walking the rest of the way.
While walking poses little risk, you should always consult your doctor when starting a new fitness routine.