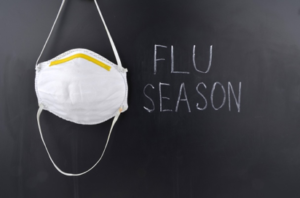 If you haven't heard it yet, you will soon – "Get your flu shot!"  But, is the flu shot actually necessary?
We'll cut to the chase – yes, everyone over the age of 6 months should get a flu shot every year. It is the most effective way to protect yourself -AND- others.
The flu vaccine gets your immune system producing antibodies that can help fight off flu viruses when you come into contact with them.  And to the naysayers that claim they get the flu after the shot, that may be, but rest assured that the post-vaccination flu is much less severe than the one you couldget without the vaccination.
Even if you're one of those people that NEVER gets sick (*knock on wood), get the flu shot to protect your loved ones.  Babies, young children, older adults, and those with chronic health problems are much more likely to end up hospitalized if they come into contact with the flu virus. Those who can get their flu shot will prevent the spread of the virus, protecting those with immune systems that cannot fend for themselves.
If you're still on the fence, here's a list of who the flu vaccine is especially important for:
People 65 and older
Pregnant women
People with asthma
Children 5 and younger, especially those 2 and younger (but older than 6 months)
People living in a nursing home
Anyone with chronic disease (i.e. diabetes, HIV, cancer, heart disease, etc).
Flu season generally arrives in October and lasts until May.  Get the vaccine prior to the season start to ensure that your body has enough time to build up immunity!
You can get the flu shot at your primary care physician's office or at your local urgent care facility. Next Level Urgent Care offers flu shots at all of our locations for just $35.  Skip the waiting room by getting in line, online through our app.  Text NLUCAPP to 313131 to download the app today!