Anyone else ready to say "Bye-bye, Summer" and "HELLOOO FALL?"  Don't let the warm weather kill your vibe.  Make your home feel like fall with these easy Autumn Décor DIY projects.
Let's face it, it's not Fall without the smell of pumpkin spice in the air.
These Pumpkin Spice Mason Jar Candles should do the trick!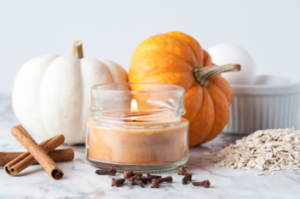 All you need are: 2 large mason jars, 2 tablespoons of pumpkin pie spice (store bought or make your own), ½ cup oil (we love using nut oils like Pecan in these pumpkin spice candles, but any oil will do!), 2 candle wicks (at least 12 inches long), and 1 lb of candle wax.
To start, pour the oil in a medium pot and heat to simmer.  Take the pot off the heat and add in the pumpkin pie spice.  Once the oil is cool, pour it into a jar and allow it to continue to infuse for at least 2 days.  This will ensure that you have a super pumpkin-spicey(???) candle.
Once your oil is infused, cut the wax into small pieces and add to a pot.  Heat the pot up to medium low and allow the max to melt fully.
Cut your wicks the full height of your mason jars.  Secure it with some tape.  Pour ¼ c oil in each mason jar.  Then, add in your melted wax and stir, making sure to leave the wick in place.
If you're impatient, you can place the jars in the freezer for 20-40 minutes to set fully.  Or, you can place them in the fridge for 1-2 hours.
Light them and sit back as the sweet smell of pumpkin spice fills up your home.
With pumpkin spice in the air, you're probably thinking that some actual pumpkins would be nice.  But, whoa there, sparky!  It's only September, and no one wants to purchase pumpkins this early only to have them rot a few weeks later.
Lucky for you, these Easy Yarn Pumpkins will last all Fall long.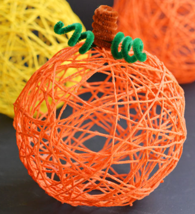 All you need are: Yarn, White Glue, Balloons, Brown Pipe Cleaners, Green Pipe Cleaners
Blow up balloons to whatever size you want your pumpkins to be.
Tie a dry piece of yarn around the end of your balloon (this will be what you use to hang dry the balloons later).
Next, fill up a bowl of white glue and cut a piece of yarn long enough to wrap around the balloon 8-10 times in different directions (or more depending on the look you're going for). Submerge the yarn in the bowl of glue and begin wrapping the yarn around the balloon.  If you run out of yarn too early, don't worry; just cut another piece of yarn and overlap the two pieces on the balloon to keep going.
When you're done wrapping, tie the dry piece of yarn to a cabinet handle or something that will allow your balloons to hang dry for a full 24 hours.
To detach the yarn from the balloon, use your finger to push the balloon away from the yarn before making a very small cut in the balloon near where it is tied, so as to allow it to deflate slowly as opposed to popping it.
When it's deflated, pull the balloon through the yarn.
Make the pipe cleaner stem and vine by wrapping the brown and green pipe cleaners around your pinky finger.  You can glue these on, or just tuck them in place.
There you have it! Super simple yarn pumpkins that can be used for décor all around your home!
Finally, what's fall without a sweet wreath on your door!  The DIY Faux Cotton Wreathis so simple and turns out beautifully!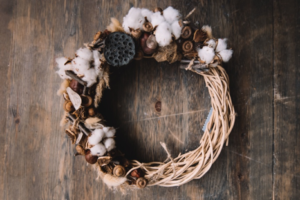 What you need: A grapevine wreath (You can find these online or at Michaels), your favorite fake greenery, fall florals, and of course, faux cotton (also available online or at Michaels).
This wreath is so simple because there is absolutely no glue required.  Simply trim your flowers and cotton pieces and begin layering them over your wreath, tucking them in as you go.  When you are happy with your design, hang it on your door and enjoy!
That's it!
We hope you enjoy these simple Fall DIYs!  If you try them out, tag us in your social media posts so that we can see your gorgeous creations.
Projects adapted from:
http://www.sheuncovered.com/2014/10/pumpkin-spice-mason-jar-candles/
https://onelittleproject.com/yarn-pumpkins/
https://www.runtoradiance.com/pretty-diy-fall-wreath-3-ways/